Our Boat - The Kandi Leigh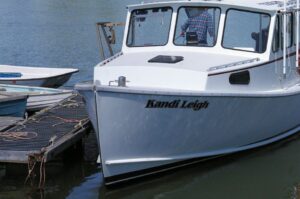 The 'Kandi Leigh' is a 32' fiberglass lobster style vessel, designed and built in Milbridge, Maine by H & H. She is equipped with modern full electronics, navigation, and all the required safety equipment. A 500 HP Cummins diesel engine keeps her running sound. There is a fully functional head (toilet) aboard for your comfort as well.
Where do you leave from?
All tours depart from: 57 Bayview Street Millbridge Maine 04658.
What are your No Show and Cancellation policies?
If you CANCEL a tour in 24 hours or more, there will be no charge. If you CANCEL a tour in less than 24 hours, 50% of the tour cost will be applied. If you fail to contact us in anyway, and NO SHOW for a tour, the FULL TOUR AMOUNT will be charged. Thank you for your cooperation
Do you have a toilet aboard?
YES. We sure do.
Can we bring our dog?
We welcome well behaved dogs on most cruises but will limit the number of dogs per cruise. We ask that your dog be on a leash all times. Please call the office to purchase your tickets for a cruise that has availability for man's best friend.
Do you guarantee sighting of wildlife?
No, we don't. Since animals in their nature habitat can be unpredictable, we do not guarantee sighting, however, we do make every effort to ensure that we give you the best experience as possible.
When is the best time to see Puffins?
Puffins can be seen at all times during the day. Most flight activity usually occurs in the morning hours.
Can we leave the boat to view the puffins?
All passengers must remain on the boat. Visitors are not allowed on the island because it is a wildlife refuge.
Where to stay when visiting Downeast?